Get to know the tea


Deep steaming is to make the steaming deeper than ordinary sencha.
It features a mellow and deep taste. Light blue is deep green, and tea sticking to "good taste", it is深蒸し菊川茶It is.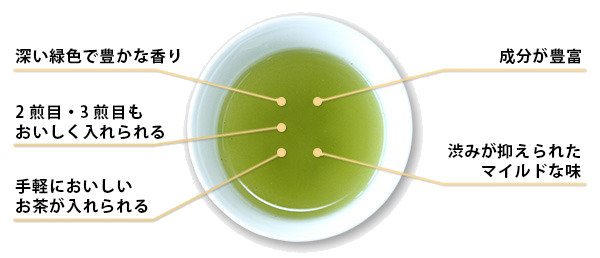 深蒸し菊川茶の特長
Raw leaves are steamed at the first stage of the process of producing aracha, but deep steaming takes more than twice as long as ordinary sencha to steam deeply. Tea leaves from Kikukawa are suitable for deep steaming because of their thick leaf meat.

By steaming deeply, the ingredients that cause astringency are suppressed, resulting in a mellow taste. It is easy to increase the powder a little, but this feature is also深蒸し菊川茶It is an important element that creates a uniquely elegant taste and dark green color.
Tea is a natural beverage of the blessings of nature
Tea, which is usually casually drank, was also regarded as "sendoku" in the old days, and there was a time when it was thought in the same way as medicine. Recent scientific analysis has elucidated the various ingredients contained in tea and its surprising effects.
Tea is full of wonderful ingredients that will be good for the body. Drink tea and live a healthy life.

There are many kinds of tea. Even tea leaves harvested from the same tea tree change to various flavors and flavors depending on the production method. Why don't you enjoy various kinds of tea?

Typical active ingredients found in tea

Contact us
Please feel free to contact us.

0537-35-0954


FAX 0537-35-2114
This page has been translated automatically. Please note that it may differ from the original contents.